MINDFUL MAKER
EVERY PIECE OF NICOBLUE JEWELRY IS PROUDLY HANDCRAFTED IN KEY WEST, FLORIDA BY OWNER + ARTIST HEATHER TALTON.
WE ARE AN ESTABLISHED CRUELTY-FREE + ECO-CONSCIOUS BRAND, DEDICATED TO CREATING BEAUTIFUL PRODUCTS INSPIRED BY NATURE, WITHOUT STRIPPING LIFE OR NATURAL RESOURCES FROM MOTHER EARTH.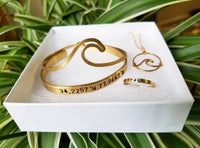 Testimonials
" I LOVE everything I order from nicoblue! Everything is carefully crafted and you can tell. The customer service is top notch as well. You can just feel the positive energy radiating from the boutique as soon as you walk in. This company is my go to for all my jewelry needs! 

✩✩✩✩✩

Caitlyn M.
" I love the Nicoblue Drift essential oil- not only do I use it in my diffuser but I also rub some on for cologne. It smells incredible and every single person who has ever smelled it is obsessed. Love !!! "

✩✩✩✩✩

Derek D.
" The wave necklace I received was perfect! It is so pretty, and the delivery was fast. Very easy to work with and a perfect gift for my daughter! "

✩✩✩✩✩

Karen Z.
" Beautiful. I ordered this Wave Ring for my daughter who is a student in Wilmington. She loved it! The ring is beautiful and surpassed my expectations. I am sure I will purchase other pieces of jewelry in the future. "

✩✩✩✩✩

Lisa C.
LOVE! I love that you can customize these bracelets!! Having the coordinates of my home town on my wrist is awesome! Every time I look at it I am reminded where I grew up!

✩✩✩✩✩

Lauren T.
LOVE my Beaded Wave Choker! My new choker is perfect and exactly how I wanted it! I wear it everyday and receive so many compliments on it. Thank you Nico Blue!

✩✩✩✩✩

M'Lynn D.
The ONLY Jewelry my daugther wants to wear!! Love all your jewelry. Have several of your pieces including necklaces, bracelets and rings. Only thing my daughter wants to wear. Gave this piece to my niece as a gift, not only does she love it, she's now a customer too!

✩✩✩✩✩

Maria S.
Love this litte wave! I got a million compliments on this piece. Love all my nicoblue jewelry :)

✩✩✩✩✩

Heather W.
Gorgeous! I loveeee my silver wave toe rings! They are adjustable and are just perfect for showing a little bling on summer boating/beach days or even just everyday wear! ♥️

✩✩✩✩✩

Richelle H.